---

MY FAVORITE PICKS THIS YEAR

---
[REC]2 (2009) (RECOMMENDED)
Dir: Jaume Balagueró (REC, FRAGILE, THE NAMELESS, DARKNESS)

Balaguero delivers once again in this tight sequel of his previous video-verite entry [REC] (see review.) (remade in America as QUARANTINE (2008)) Picking up exactly where the previous film leaves off, we once again enter the quarantined building to fend off possessed zombies and search for a cure to the whole mess. As with the first film, the ending leaves us with new notions to ponder about old horror motifs. Last time it was the union of demonic possession and plague viruses. This time, could it be alien life-forms added to the mix? Intelligently drawn and cleverly portrayed, REC 2 gives the thrills and chills and does not disappoint. No musical score, frenetic camera realism and really terrific special effects create a ghoulish reality that keeps the tension up from start to end.

There is a very clever idea in the film about how the infrared "night vision" feature on a video camera can see demonic things that normal light cannot. Crafty editing between the two visual realities makes for a really creepy and original concept. One could write volumes on the recent video-verite horror sub-genre and the symbolism of camera-as-weapon. As with THE BLAIR WITCH PROJECT and its descendants: CLOVERFIELD (see review,) PARANORMAL ACTIVITY (see review) and DIARY OF THE DEAD (see review), the video cameras capacity for documentation serves as a defensive tool and an omniscient character in and of itself. The cameras objective POV offers us no comfort or direct line to truth, as the realities it is involved within continue to evolve. You get the sense in this film that Balaguero never is not thinking about this. Much of the film uses the idea of witnessing through a live lens as both an asset and a new source of trouble. As with the first [REC], the contents of Pandora's Box cannot be shoved back in, but domino effect into larger conundrums. Balaguero never lets us rest and the ending opens the door to much larger concepts. Great stuff!


DEAD GIRL (2008) (RECOMMENDED)
Dir: Marcel Sarmiento (HEAVY PETTING) and Gadi Harel (OPERATION MIDNIGHT CLIMAX)

Absorbing indy feature that critiques the realm of male sexual dominance. As with TEETH(2008) (see review) and MAY(2002) this film uses an absurdist device to kick off a moral play and ultimately a statement on the fatalism of our own desire. Not for the feint-hearted, but nicely original and sincere in its approach, DEAD GIRL leaves you with a lot to ponder. Picks up where one of the sub-themes of THE ZOMBIE DIARIES (2008) leaves off...


SUPER 8 (RECOMMENDED)
Dir: J.J. Abrams (CLOVERFIELD, STAR TREK)

Two kinds of viewers to this film: ones who grew up making home movies like the characters in the story, and ones who did not. As one who did, I loved this story of suburban kids trying their best to produce a horror movie. Imagine the irony when a REAL monster shows up and terrorizes the town! Very much Spielberg (THE GOONIES, CLOSE ENCOUNTERS, E.T.) or STAND BY ME pre-teen comic romp, meets actual alien invasion horror. The kids were fantastic and the special effects great. What is probably an overly sensationalized tale is rescued by the kitch of the kids and their doomed filmmaking efforts. Best payoff of all is the end credits when we actually see the final movie by the kids. Riotous!

MONSTERS (2010) (RECOMMENDED)
Dir: Gareth Edwards

Uses the recent debate on illegal immigration and border control as a launching point for a larger meditation on the idea of nature knowing no boundaries. Not the cheeky political metaphor you might have expected.

A budding romantic relationship between our two main characters serves as a background canvas for allegories about what is organic and natural- versus what is societal and constructed. Alien DNA brought back from our returning space missions has become part of our living Earth. Creatures that have evolved are quarantined behind restricted zones. These very non-human creatures are now part of our complex eco-systems and efforts to separate them from the rest of the world are beginning to fail. Obligatory questions about "what is natural" become the politics of the day.

Less the socio-drama of DISTRICT 9 and more akin to the scientific themes of THE ANDROMEDA STRAIN or JURASSIC PARK- only with the docu-verite style of CLOVERFIELD.


WIND CHILL (2007)
Dir: Gregory Jacobs (CRIMINAL)

Surprisingly solid and well produced ghost story that did a decent job at offering a fresh angle on a beaten-to-death genre. (yes folks, I'm talking about the 'angry, vengeful ghost' angle YET AGAIN.) Terrific performance by Emily Blunt and wonderfully creepy original score.


VILLAGE OF THE DAMNED (1960) (RECOMMENDED)
Dir: Wolf Rilla

I'm embarrassed to admit that it took me this long to finally see the original VILLAGE OF THE DAMNED and its sequel- and wow was it worth the wait! British horror at its best. This film is incredibly well made, smart, mature and high-concept. If you are only familiar with the John Carpenter re-make, I highly suggest you view a restored copy of this original.




CHILDREN OF THE DAMNED (1964) (RECOMMENDED)
Dir: Anton Leader

As good as its prequel if not better. The story continues and has much more to offer than simply a cash in on the success of the first. SEE BOTH FILMS!

THE QUATERMASS EXPERIMENT (1955)
Dir: Val Guest

Another slam-dunk early horror entry from the Brits. The first in a series of films centered around the crusty and determined Professor Quatermass as he investigates sci-fi mystery and intrigue. In this case, a deep space rocket returns to Earth and brings with it a deadly and un-welcomed guest. Clever writing, stylized acting and practical special effects make this feature smart and enjoyable.

THE DEAD OUTSIDE (2008)

Dir: Kerry Anne Mullaney


What I love about zombie-apocalypse films is that they create worlds that level the playing field for human society, forcing humans to deal with one another in a more desperate, heightened reality. All sorts of ethical tales spring from such framework and we get to observe them like a science experiment. Such is the case with THE DEAD OUTSIDE, only focused into a more singular, personal context.

After a plague outbreak renders people mad and homicidal, several characters take refuge in a rural Scottish farmhouse where a girl has been surviving on her own. Apparently immune from the virus,

April

is an angry loner who shoots and kills the slowly invading zombies, keeping the world at bay in a troubled, day-by-day subsistence. When Daniel, fresh from witnessing the death of his own family, takes refuge at the farm house, April's secret past begins to come into the light.

April

, as it turns out, was one of the original "patient zeros" in an orphanage where viral experiments were performed. Whether this was where the viral antidote was created or the actual virus itself was manufactured is unclear. What is clear is that

April

's life has been one of torment, abuse and anger at the "world outside." Here is where the title of the film comes into view. The zombie world is of course, a projection of

April

's ambivalence toward humanity. Not surprisingly, she flirts with thoughts of suicide. If life inside was so horrible, and life outside is apocalypse- what life is worth living? As she later admits, she returned to the farm house after escaping the orphanage, not just because it was the only place she knows, but also to vengefully kill her abusive foster family that lived there.

Flashbacks reveal that this may not be true- that a failed attempt to rescue a little brother may be at the heart of April's guilt. April

now exists in the empty world of her past,

trapped in a self-cycling purgatory.






Determined to bring April back to the city for medical study,
Daniel
and fellow survivor Kate plot ways to fool April into leaving the house. Once again,
April
cannot trust anyone and it seems her social fears are realized. However, finally understanding the nature of
April
's inner paralysis,
Daniel
decides to align with her and the two set out on a journey to find a new place to exist, leaving their demons behind once and for all.

Although the heart of the film is interesting and uses the zombie genre in unique ways, the low-budget production value was so stark, it was hard to follow at times. Particularly in sequences where the pacing picks up, i found it hard to track what was going on. Flashbacks mix with present reality with a lot of out of focus footage and the storytelling gets vague. Other than this, I found the film to be another valid entry in the current zombie-end-times rage along side THE ZOMBIE DIARIES(2008).

THE BROKEN (2008)
Dir: Sean Ellis (Cash back)

INVASION OF THE BODY SNATCHERS meets Philip K. Dick in this tense identity thriller. Perhaps the film that THE UNBORN (see review) and MIRRORS (see review) wanted to be but weren't. Exquisite directing style and cinematography use silence and long passages of stillness to evoke a very creepy mood and tone. Slow motion sequences are reminiscent of Peter Weir (THE LAST WAVE, PICNIC AT HANGING ROCK.) The film uses one of my favorite visual motifs in horror- that of characters observing themselves in the mirror for awkward lengths of time. You just know something in the reflection is going to move different and the anticipation kills you! Lena Heady (300, THE SARAH CONNOR CHRONICLES) stars. Despite the high tension of the film, the ending disappoints. Its almost as if the writers didn't have an ending so the movie just sort of stops The plot twist is foreseeable from the onset, so the conclusion is anti-climactic. Great ambient score as well.



WHEN YOUR SHADOW-SELF WANTS TO CROSS OVER...
THE COLLECTOR (2009)
Dir: Marcus Dunstan

Not exactly torture porn, but certainly riffs on the genre a bit. Reminded me of THE STRANGERS (see review) with a touch of the SAW films. Directorial effort from the screenwriter of PIRANHA 3D, FEAST and a variety of the later SAW films.

What works in this film is the moral conflict in the lead character. He is in the midst of committing a crime when he encounters another crime being committed. What should he do? If he takes action, he'll surely be caught for his own criminal activity. It is only later we find out the nature of why he is a law breaker and why it is perhaps justifiable. I found this a great dramatic backdrop for the tense action that played out on the surface.

DREAD (2009)
Dir: Anthony DiBlasi

You'll never look at a steak the same way again. You just know when Clive Barker is involved, you're gonna see self mutilation and extreme close-ups of maggots at some point- and sure enough...

Based on a Barker short story, this feature is very much the mature version of what the SAW films try to do (but fail amidst their own sensationalistic pretense.) We delve into the grayer areas of moral ethics as a group of film students do a research project on the nature of fear. Psycopathy takes over as a troubled young man, so obsessed with the trauma of his childhood, perpetrates the same mortal dilemmas he wrestles with, on the innocent lives of others. What begins as an exercise turns into a way of life as the young man loses himself to his obsession. The film deals with themes of social acceptance and self-image, to heartbreaking levels. Although certainly substantive and thought provoking, the film is so viscerally graphic, you begin to feel like one of the psychopaths victims as well. Interesting play on the cyclical nature of trauma and abuse and of the vertigo of obsession. This film is not for the weak!


WALLED IN (2009)
Dir: Gilles Paquet-Brenner (UV, PRETTY THINGS)

A bizarre and meandering haunted-house tale essentially, that has some interesting points amongst mostly boring ones. A young girl stays at a remote building to set it up for demolition. Along the way she encounters all the strange tenants of the place as they prepare to move out. Eventually the girl is taken prisoner within a secret chamber in the center of the structure- where she encounters the architect of the building. His wish is to be murdered and sealed into the foundation of the structure. There is a briefly interesting idea here about architecture cults that believed in places having spirits and merging with them through black magic. I dunno, kind of a movie-of-the-week really.


BE ONE WITH THE STRUCTURE...
SKYLINE (2010)
Dir: Colin & Greg Strause (ALIEN VS. PREDATOR: REQUIEM)

A pointless actioner that fuses cool CGI into a forgettable plot exercise with no depth. Directors/Effects Artists The Strause Brothers (effects engineers for BATTLE: LOS ANGELES) deliver this slick but unsuccessful CGI romp that borrows from WAR OF THE WORLDS and INDEPENDENCE DAY. Like cheap fast food, you're suckered, then feel guilty (with a stomach ache) and are hungry again an hour later. Their first mistake is that they portrayed filmmakers as affluent young hipsters in fancy cars having expensive mixers where life is one long frat party. This alone demands I take violent vengeance on the film. If they intended this as satire it doesn't work. Our heroes (two models pretending to act) are a young couple on a trip from New York to visit a successful entertainment industry friend in L.A. The "cool" hero guy (from New York) wears a T-shirt that says "Good Art" on the front and laments on his humble starving artist life and his artistic integrity. TIME FOR EVERYONE TO DIE! - and die they do as aliens from the skies start launching an all out harvesting on humans across Los Angeles. I suppose this could be played as a metaphor for the assimilating / consuming culture of Hollywood commercialism, but you get the sense that such subtext would be met by blank stares in the face of the makers of this picture. Fancy effects show hovering spaceships sucking up hundreds of people in a whirlwind "like the rapture" as one character describes. There is also a recurring theme about birth (the lead girl is preggers) and I suppose, something to do with being reborn into a hive mind, etc. The aliens are very BORG-like and emit a powerful blue light that once looked at, hypnotizes you to join them. It's all rather exhausting.


As I prayed for the characters to die horribly, enjoying myself as they did, there were a number of cool special effects and suspense action sequences. There are crawling octopus aliens, flying 'sentinel' ones (a la THE MATRIX) and these big giant troll monsters, which give us some cool Godzilla-time CLOVERFIELD type stuff. This seems to be the CGI rage lately, much to my joy and amusement. Can't get enough of giant monsters smashing things :-) The bio-mech aliens seem part animal, part plant and have vaginas for mouths. They suck up their human victims and return them to the mother ship, where they remove their brains to use as batteries or fuel or some such (invoking THE MATRIX once again.) This was the most interesting part of the film for me. Here we visit the darker recesses of Welles' WAR OF THE WORLDS, where captured humans, obviously further down in the evolution chain than imagined, serve as either food, fuel or- as in the case of the Spielberg remake- fertilizer. The interior sequences in the mothership are not unlike the sketches H.G. Welles provided in his original publication for WOTW. There is even an homage to the WOTW farmhouse scene as our band of characters split on whether to hunker down and survive or cut and run. No matter, everyone dies anyway.



ALIEN ANGRY... ALIEN SMASH!
The end betrays what little thread there is to the film by turning into a comic-book CGI fandango the likes of THE HULK, as our hero guy is de-brained and plugged into a giant troll creature. However, his true heart overtakes the will of the hive-mind and he goes on a rampage to protect his wife (who of course, recognizes him.) So stupid you can barely keep watching, but luckily this awkward left-turn into a different movie takes place in the last 60sec of the flick, leaving us with graphic-novel styled stills as the credits roll to the tactless choice of heavy metal music (God I hate when they do that), indicative of the thoughtlessness of the entire production.

As for the guilty fun factor, i recommend this drive-in dead-ender with a six-pack (better make than a twelver) on the effects alone. I seem to recall a similar no-budget video film like this- a bunch of characters trapped in a high-rise due to aliens- which I saw a year or so ago. I can't remember exactly because it was so forgettable but this may be a bigger budget remake of that one. I could probably look it up and find out if I cared, but I don't.

Why am I so ruthless on this one you ask? Because I LOVE alien invasion stories, especially ones with giant creatures and army battles and the end of the world. The more of these piss-ant attempts come out, the more the well is poisoned for the chance at good ones. As it is, we're maxed out with this genre with very little to show for it. Skip this and watch CLOVERFIELD instead.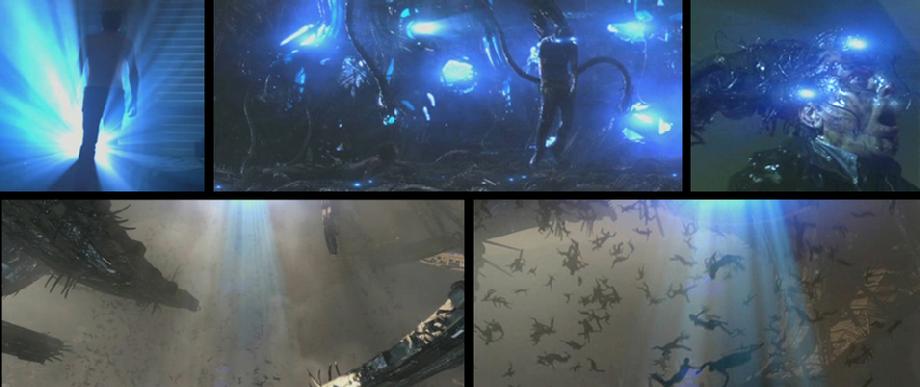 RAPTURED, BUT NOT TO HEAVEN; DON'T LOOK IN THE LIGHT! YOU'LL BE ASSIMILATED INTO HOLLYWOOD AND END UP IN A MOVIE LIKE THIS ONE!
THE TERROR (1963)
Dir: Roger Corman

Early Roger Corman romp starring Jack Nicholson and Boris Karloff. Nothing sensational, but aptly done for a low-budget grind-house pic. As I watched, I suddenly remembered seeing this film on TV as a kid and how the images and cinematography had enchanted and frightened me. I also found the end to be disturbing, not in a gruesome way but from the sad drama. Cheezy wow-that-ancient-castle-looks-just-like-a-movie-set, wanna-be Hammer-Horror production value aside- I appreciated that this movie seemed to have a lot of heart compared to films of today.

IMPACT (2008)
Dir: Mike Rohl (TV's SMALLVILLE, SUPERNATURAL, ANDROMEDA)

Made for TV mini-series about the end of the world. Very much like DEEP IMPACT but smarter in some ways. I appreciated that, despite its sensationalism, the film played it cool and was respectful of the science it used to weave its premise. After a dwarf star embeds itself into the moon, the now exponentially denser moon begins a slow crash course into the Earth, unleashing a plethora of natural disasters on the way. I always like dramas about the end of the world where the characters know what's going to happen and we get to observe how they act and what they think. A slightly over-the-hill Natasha Henstridge stars- and gets my vote for MILF of the year ;-)

Part-1 was engaging enough to be enjoyable. However, part-2 sort of raced through itself and felt phoned in.


BABYSITTER WANTED (2009)
Dir: Jonas Barnes & Michael Manasseri

Snarky fun in the vein of Sam Raimi's EVIL DEAD 2, etc. When a babysitter shows up for a job the normal enough seeming parents turn out to be raising the son of the Devil! What looked like a tasteless torture porn flick at the start, turned out to be a tongue-in-cheek horror comedy that I just couldn't hate. You almost feel sympathy for the tireless parents when they can't seem to kill the lead actress: "It's nothing personal- we just need fresh meat for the baby..."

Seemed an almost exact re-make of Ti West's HOUSE OF THE DEVIL (2009) (see review) although I could find no direct connection between the films.

THE ECHO (2008)
Dir: Yam Laranas

Director Laranas re-makes his own film from 2004 for an international audience. Another vengeful ghost tale in some creepy old apartment complex. This time our hero character is an ex-con trying to start over. Sure enough, we discover his crime was justifiable (oh good, we don't have to dislike him.) He keeps running into this abusive neighbor guy who beats and terrorizes his wife and daughter. Turns out, they are all dead and he is seeing their spirits. Of course, as you've already guessed, its up to our hero to discover and divulge the truth of their murders in order to set their spirits free and end the haunting. Blah, blah, blah...

The only thing I liked here is that our ex-con hero can't get a break. Everytime he reports what's going on, no one else can see the ghosts but him. Typical plot here but I liked how you just knew he was gonna go right back to jail for seeing things and seeming crazy to everyone.


I SPIT ON YOUR GRAVE (2010)
Dir: Steven R. Monroe

As tactless and sensational as the original, only minus all the hairy 70's nudity.

Amazing what passes for literary drama nowadays. Ok, i'm over the top here i know, but seriously- why did I need to experience this story? I want the filmmakers to answer that question. We already have Quentin Tarantino to give us pulp drama and revenge plots. Why this too?

No one needs to witness a graphic rape in order to feel some cheap "pay-off" with the girl disemboweling her attackers later. "Insulting" is the only word I can conjure to address this issue.

I saw an interview with the lead actress. (Amazing what actors will do for work these days.) It was obvious she had bought into the filmmakers explanation of "turning the tables" on the bad guys as justification for their guilty-pleasure story. Torture Porn is assaulting enough, but to try and justify it with a revenge ending is flimsy at best. Yes, and we only read Playboy and Penthouse for the articles…

LAST HOUSE ON THE LEFT, a film that actually tries to evoke concepts of humanity-at-its-boundaries, was already needlessly remade recently. If you must watch young actresses getting raped for hours, please see that instead.

THE DEVIL'S GROUND
Dir: Michael Bafaro

A wanna-be effort reminiscent of WRONG TURN or even TEXAS CHAINSAW - merged with a psychological identity drama.

College kids on an environmental excavation discover evidence of mass killings up in them-there hills. The locals have obviously been conspiring to keep the mass graves a secret and terror and mayhem ensue! The set-up is ok and gives a creepy feel of being lost in the woods and surrounded, however- the portrayal of the toothless hicks falls into the same cliche you've seen a thousand times.

The movie is book-ended with a parallel story of Carrie (Daryl Hannah- appearing suspiciously added-on as if only for her star power...) a woman driving across country in effort to reclaim her life after her husband has gone missing and is presumed dead. While on a rural road, Carrie is flagged down by Amy, one of the college kids who has escaped the killers. Learning of Amy's horrific tale, Carrie drives Amy to a service station to use the phone. Once there, Amy disappears and Carrie spots her husband's long lost vehicle hidden in the woods out back. The killer hicks that terrorized the college kids suddenly show up and explain that Amy is a ghost who returns every year on that night. The killer hick battles it out with his identical twin (the guy helping Carrie) and the good twin loses, Carrie dies and the film ends very contrived and confused...





THE DEVIL'S CHAIR
Dir: Adam Mason (BROKEN, BLOOD RIVER)

Tries really hard to be in the quick-paced and frenetic style of Danny Boyle (28 DAYS LATER, SUNSHINE) but ends being a whirling mess. In your face editing and edgy voice-over can't make up for the lack of concept and dramatic content. Came across as just sort of loud and obnoxious.

AUTOPSY
Dir: who cares

Um- no...

GNAW
Dir: no one cares

What you'd get if a group of fourth graders got a hold of a movie camera and made a film about all the grossest stuff they could borrow from other horror movies they'd seen. Completely unoriginal and childish.